We design and redraw, School Badges and Logos.
School Flag Design - We deliver School flags to Cape Town, Durban, Johannesburg, Pretoria, East London, Port Elizabeth and any where else in South Africa.
Here are a few examples of School flags we have designed or redesigned: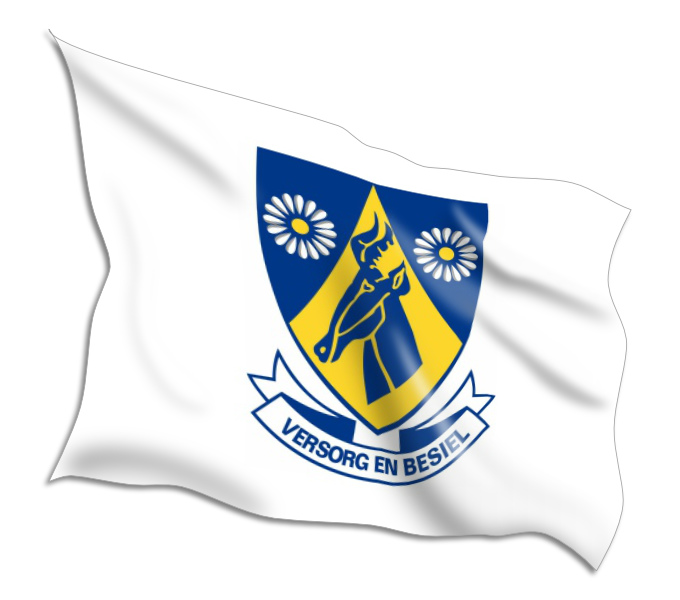 School flags, badges and emblems serve a variety of purposes, including:
Badges and emblems can also be printed on flags.

Identification: School badges can be used to identify students and staff, especially in large schools or campuses. This can be helpful for security purposes, as well as for keeping track of attendance and participation.
Recognition: School badges can be awarded to students for academic achievement, extracurricular activities, or other accomplishments. This can be a way to recognize students' hard work and dedication, and to promote a sense of pride in the school community.
Branding: School badges can help to promote a school's identity and values. The symbols and colors used in a badge can convey a message about the school's mission, its history, and its culture.
Motivation: School badges can be a source of motivation for students. When students see their hard work rewarded with a badge, they are more likely to continue to strive for excellence.
In addition to these purposes, school badges can also be a way to express school spirit and to create a sense of community. When students wear their school badges, they are showing their pride in their school and their commitment to its values.

Here are some specific examples of how school badges are used:

Prefect badges: Prefects are students who have been chosen to take on leadership roles in their school. They often wear badges to identify their position and to show that they have been entrusted with a responsibility.
House badges: Many schools have a system of houses, which are groups of students who compete against each other in academic, athletic, and other activities. House members often wear badges to show their house affiliation and to support their fellow house members.

Achievement badges: Schools often award badges to students who achieve certain academic or extracurricular milestones. These badges can be a way to recognize students' hard work and to motivate them to continue to strive for excellence.

Overall, school badges are a versatile tool that can be used for a variety of purposes. They can help to identify students, recognize achievement, promote school spirit, and create a sense of community.
Other Flag Products